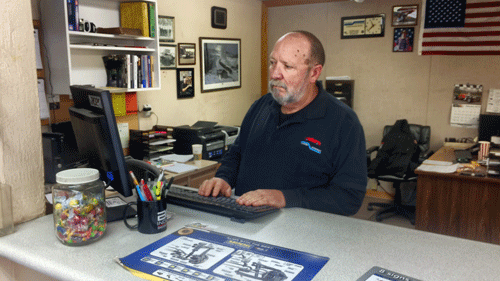 In 1976, Bill Williams and (son) Jim Williams owned and operated a Union 76 Service Station in Rancho Cordova... in 1978 Bill and Jim purchased Folsom Union 76 Service Station that was located across from Folsom City Hall at corner of Natoma Street and Wales Drive.

Under new ownership of Bill and Jim, Folsom Union 76 offered full service gas-island and full service automotive maintenance & repair on-site from their 3-bay service area. Over the next 12 years, Bill and Jim built a credible reputation for delivering complete satisfaction to their customers.

In 1988 Bill and Jim recognized a need to hire more Auto Technicians and more space to perform automotive maintenance and repair to their growing customer base. In 1989 Folsom Autotech was born and opened for business next to Folsom Elks Lodge on Reading Street.

Minor services like oil changes, drive belts and fluid checks were still performed at Folsom Union 76 until 1996 when Bill & Jim sold Folsom Union 76 to devote their fulltime effort to Folsom Autotech. 1993 was the final move for Folsom Autotech to their current location at 1126 Sibley Street, Folsom, CA.

Since 1978, the goal of Folsom Autotech is your Complete Satisfaction..!
We pride ourselves on our commitment to quality service. Here are the people working for you every day to repair your vehicle.


Ron, Manager

28 Years Automotive Experience
Skills & Certifications:






---




George, Tech




45 Years Automotive Experience
Skills & Certifications:

Diagnostics and Repair
Computer
Engine and Transmission
General Maintenance and Repair




---




Bob, Tech

35 Years Automotive Experience
Skills & Certifications:

Diagnostics and Repair
Brake Inspector
Brakes
Suspension
Alignment






---




Robert, Tech




35 Years Automotive Experience
Skills & Certifications:

Diagnostics and Repair
Computer
Electrical
Smog Inspection (Test and Repair)
Brake & Light Inspector
General Maintenance and Repair




---




Rod, Tech

20 Years Automotive Experience
Skills & Certifications:

Smog Inspection (Test only)
Brakes
Alignment
General Maintenance & Repair






---




Michael, Tech




18 Years Automotive Experience
Skills & Certifications:

Computer
Engine and Transmission
Brakes
Electrical
Smog Inspection (Test and Repair)
General Maintenance & Repair